Фотогалерея | Слайдшоу

Годы
КСЭ и окрестности
Семейные архивы
Люди
Документы эпохи
Мы сейчас
Фото-кунсткамера
НОВОЕ
---
Football in Garm: the Rebyata versus the International Team (1976). Recollections from Peter Molnar / English
One Saturday or Sunday morning (I have forgotten – three words that apply to many of the details given below) in the summer of 1976, Tolya Sokratov and someone else, maybe Boris Pavlovich Volin, maybe Kostya Troitsky, but probably not Sasha Ruzaikin, came into the International house at Garm, each with a one-liter bottle of beer in his hand (and maybe one in each hand).

They announced, "Ready? When do you want to start?" Of course, they did not mean when do we start drinking beer; we Americans knew better than to compete with professionals in contests, and hence with Russians in drinking contests. Rather, they referred to a football game.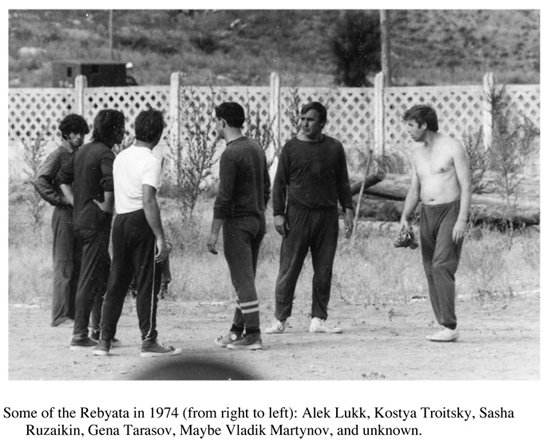 It all started a week before that day. We played football 2 or 3 times each week, after work when it was cool, but the last time we played something unusual had occurred. We were some 18 guys eager to play, too many for the Garm Football Stadium. Following a uniquely Soviet (or perhaps Russian tradition) totally foreign to us American before coming to Garm, the 6 best players identified themselves as one team.

The next 6 became the second team. Remaining were four Americans, Jerry King, Steve Rocker, Brian Tucker, and I, plus (as I recall, but perhaps not yet) Zhora Popandopula and his brother, both of whom now live in Greece, the third team. (In the USA, the two best players alternately choose fellow team members, to make the two teams equal, or in this case the three best would have chosen.)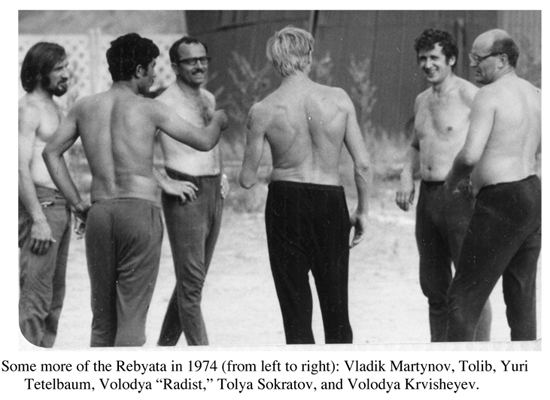 After the best players defeated the second best team, and following a short break, the International team took on the best players, who included for sure Kostya Troitsky, Sasha Ruzaikin, Tolya Sokratov, Volodya "Radist" (the radio operator), Vladik Martynov, and perhaps Tolib, Volodya Krivosheyev, Alek Lukk, Yuri Teitelbaum, Gena Tarasov, or others, whose names I forget.

Kostya was the best; he was unstoppable.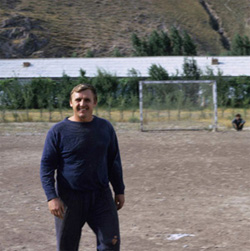 Sasha was surely the least flamboyant player we ever saw; he could kick the ball back effortlessly, usually straight at the goal.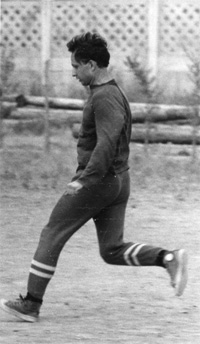 Tolya too played defense, with more effort than Sasha, but not obviously worse.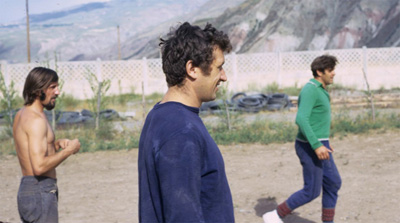 Volodya "Radist" was the fastest of all, and he was all over the field.

Vladik was just quietly good, as he still is.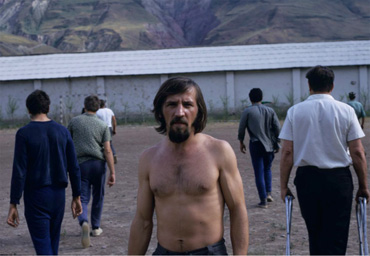 Tolib, the only Tajik to play, also was a quiet star.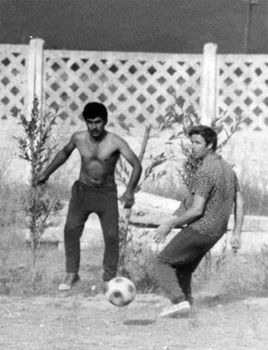 Volodya Krivosheyev was perhaps the only one older than all of us Americans, but he was fit. Yuri too was deceptive in his skills.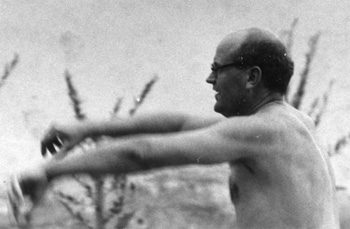 Alek was too cerebral to be a great football player, but he used brains where his brawn was inadequate.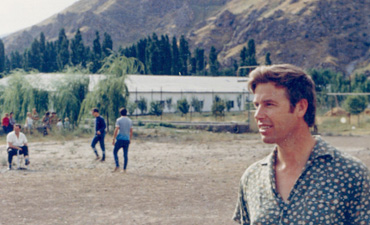 For Gena, all was somehow a joke, perhaps with our team worthy of the most laughs that day.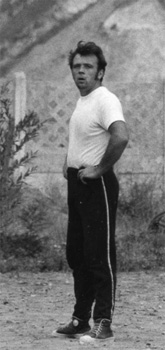 This summer (2008), Steve Roecker and I reflected on the game, and we found that we had different memories. He thought that the Garm A Team had not taken us seriously, and that they had just kicked the ball around as if they were playing with children. Yet, when darkness set in, the score mysteriously left the International Team with the more goals. I recall that we simply played well, if Steve and I both agreed that the difference in goals was more a result of luck than skill.

Anyhow, we Americans said nothing about this victory. Steve and I were due to leave Garm for fieldwork in Afghanistan the following week, and I did not want to rouse the sleeping bear. I wanted to go home with the memory of having beaten Garm's A Team. Without ever agreeing to keep silent, we all did.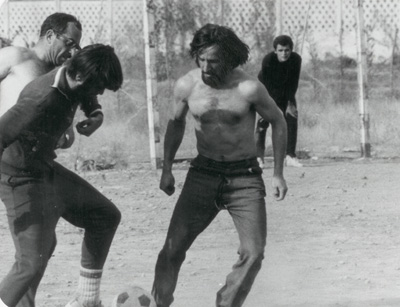 Unfortunately, later in the week, Boris Pavlovich called me into his office, closed the door, and quietly explained that the Rebyata was a bit embarrassed about what had happened. They wanted revenge. What could I say? Thinking quickly that one very good player had been absent in the game that we won, I said, "OK, but Alyosha (I forget his last name) plays for us." Boris Pavlovich responded instantly and firmly, "No. He plays for the Garm team. You must add a player."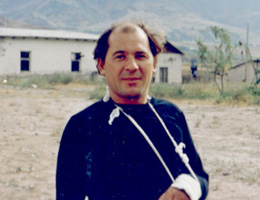 This was serious. Someone put out lines of the field to define the boundaries. Gena Tarasov drew up a sign advertising the game – a sign I saved for 20 years before moving to Colorado and losing it. As I recall the sign stated clearly that there was to be no drinking: anyone bringing alcohol to the "stadium" would be fined 3 Rubles and 71 Kopeks (the price of a bottle of Vodka).

Volodya Sheloputov (with a broken arm) refereed the game. Boris Pavlovich, for reasons I forget, did not play, and he was the line judge. Patriotism reigned not only among the Garm Rebyata, but also on Greco-American team. (We had celebrated the 200 Anniversary of the USA, Nixon was gone from politics, and no one ever imagined George Bush; so, we were optimistic.)

After playing hard and long, the Garm Team announced that the game was over. The sore was Garm 2, Greco-Americans 1. We Greco-Americans protested, and so the game continued. Then, miraculously, we scored again, but before long the Garm team scored, making the score 3-2. Again, they said the game was over, and again we protested. By now darkness was setting in.

I have to admire the Rebyata. A standard slogan in the USA is "Quit while you are ahead." Instead, they continued again, risking defeat and humiliation. Unfortunately, (or perhaps I should say, fortunately) they scored again, making the score 4-2, and we quit. Besides, it was too dark to see the ball anyhow.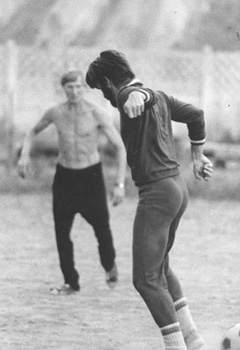 After a dip into the swimming pool, we retired to the hallway outside some of the apartments (where Zhora lived and across the street from where Sasha lived). We did what Russian men do in such situations. We drank vodka. That, no doubt, soothed our tired muscles and weary joints, if not our pride. It also emboldened us to challenge (quite loudly and unanimously, as I recall) the Rebyata to a rematch the next day. Our challenge was readily accepted, and we all looked forward to another game, after a good night of sleep.

Alas, we all slept late the next day, waking up with the double whammy of a hangover and very sore muscles and joints. Sitting over the kitchen table, we reflected how close we had come to winning, when Tolya and his companion, beer bottles in hand, arrived and reminded us of the challenge. We admitted weakness and failure.

But, as Steve and both recalled this summer, we did win the first game!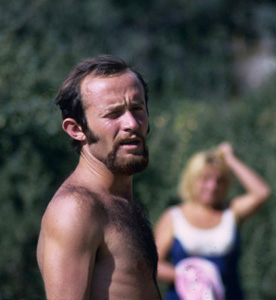 ххх


---
utah payday loans <a href="https://paydayadvance.us.com">advance payday loan</a> advance payday loan <a href=https://paydayadvance.us.com>payday advance</a>
Instant Online Loans , 05.02.2018
Ну, Питер, молодец!
Таня Глебовна, 05.08.2008
Добавить отзыв
---
---
Новости
14.05.2019. Гарм КСЭ через 30 лет.
Дорог...

18.01.2014. Питер Молнар - лауреат премии ...

21.04.2011. Медаль Рида - Татьяне Раутиан!...

08.11.2009. Первым делом - вертолеты...
...

31.01.2009. Обновления на сайте! Новые ссы...

---
Все отзывы
Последние отзывы:
---
Спонсор сайта - интернет-магазинчик "Для пышных красавиц"


Сайты наших друзей и земляков:
---------------------------------
Анастасия Коляда, она же Стася, внучка В.И.Халтурина, инструктор по горным лыжам, научит вас кататься на лыжах и сноуборде: